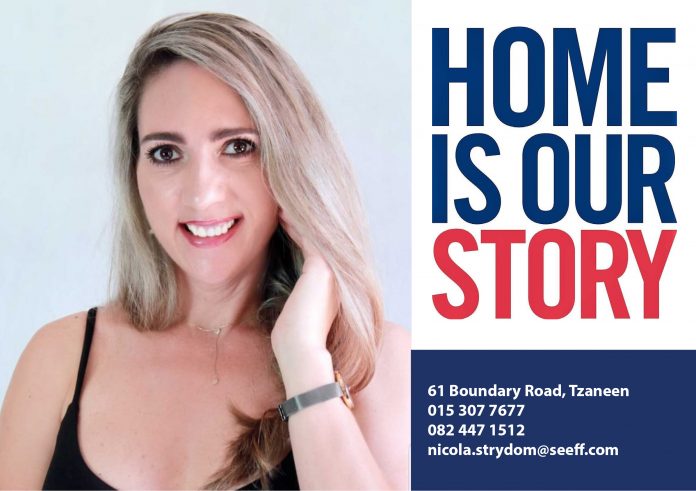 Buying a house or a property is a little trickier than simply obtaining the required financing for it. Not only might you be pressed to arm wrestle your bank manager, but you will need to deal with several other issues such as transfer fees, title deeds and rates and taxes. It could be a literal maelstrom out there.
Unless of course you have a well-versed navigator able to safely guide your investment ship through the tumultuous property ownership oceans. Enter long-time resident and established property expert, Nicola Strydom, sole director and licensee of Seeff properties in Tzaneen. In 2018, Nicola completed her NQF Level 8 through the university of Stellenbosch.
As captain of one of the best performing branches in the international Seeff-fleet since 2015, Nicola and has been awarded with numerous accolades which serve to highlight not only her commitment to excellence, but also her exceptional love for the industry her and her team have firmly established themselves in. Among the numerous awards in their silverware cabinet are included Best Licensee, Most Improved Licensee, OOBA Awards for highest selling agency in both units and Rand values, as well as the coveted Achiever Excellence award within the group.
Under her command are nine of the top agents in the game who, in conjunction with three permanent staff members, have been guiding property developers and investors successfully towards their investment destinations during the last decade. The team at Seeff Properties Tzaneen specialize in commercial, agricultural and residential properties and have an impressive list of satisfied property owners to vouch on their behalf. Seeff is an international brand with over 200 branches throughout South Africa, Zimbabwe, Botswana, Swaziland, Mauritius, Namibia and Zambia.
"Seeff holds a referral system helping buyers or sellers find property anywhere with the help of our local branch," explained Nicola. "I believe in constant training, knowing your market, knowing the needs of your clients and staff, continues honesty and integrity and helping people prosper through property."
To further assist local buyers and sellers to achieve their goals, Nicola will be publishing useful information in this monthly blog every last week of the month.
"Every month I will publish useful information regarding the current market trends, what to look out for when buying property and choosing a real estate agent as well as transfer, mortgage origination processes and different types of properties with pros and cons of buying certain properties. With 20 years of Real estate experience I will also invite our community to ask me any questions regarding real estate and processes to accrue or sell real estate."
Questions can be mailed to nicola.strydom@seeff.com or sent via WhatsApp to 082 447 1512.
"Subjects can also be suggested where we will then publish a broad explanation on these subjects or topics. I believe with proper knowledge and the right realtor any person can successfully and effortlessly buy or sell real estate."
Lay the worries to rest. Let Seeff work for you.
>