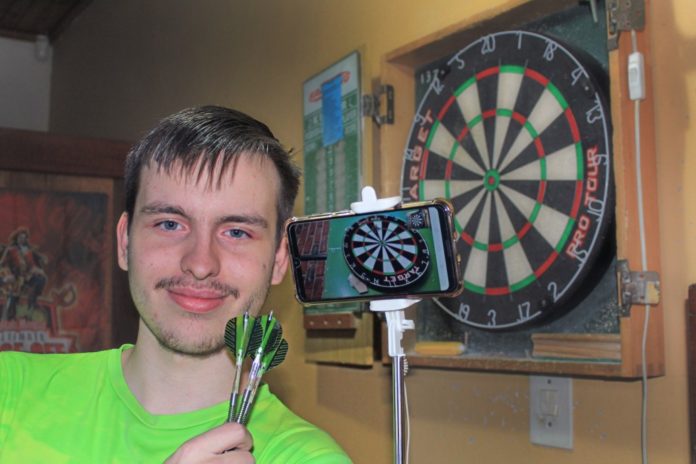 Veerpyljiespelers van die Groter Tzaneen Veerpyltjie Vereniging (GTVV) het nie gras onder hul voete laat groei tydens hierdie grendeltydperk nie. Instede wat hul sit en wonder oor wat hierdie jaar kon gewees het, het die spelers 'n weeklikse aanlyntoernooi begin. Die spelers hoef glad nie hul huis te verlaat om aan die toernooi deel te neem nie.
Volgens Tinus Jacobs, voorsitter van die veerpyltjie vereniging, is hierdie aanlynspletjie wat in die 501-formaat gespeel word, al 'n geruime tyd in die rondte. Hy sê sedert die inperking weens die Covid-19 pandemie het hierdie aanlynspeletjie nou werklik posgevat onder plaaslike spelers in Tzaneen en omliggende dorpe.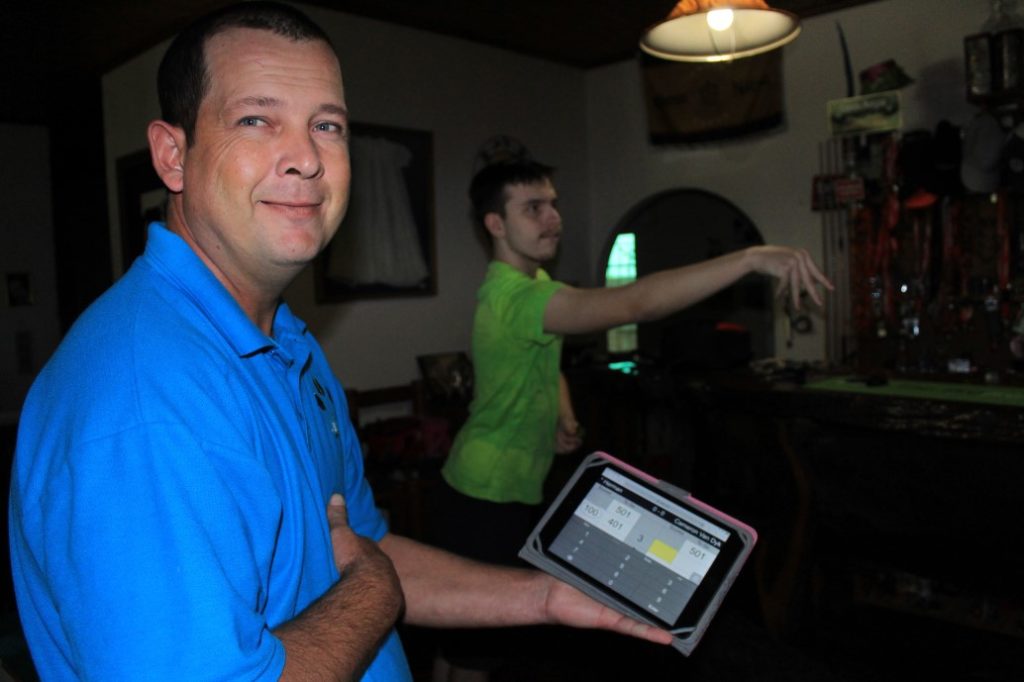 Jacobs sê dit het nie lank geneem dat die woord soos 'n weghol-veldbrand versprei het nie soos meer mense aangesluit het om deel te neem nie. Volgens Jacobs is daar selfs mense so vêr as vanuit die Kaap Provinsie wat teen hulle deelneem.
Danny Toerien, een van GTVV se bestuurslede en 'n toernooi-koördineerder, het gesê dat hierdie konsep om aanlyn te speel nie iets nuut is nie. "As mense dink ons speel op rekenaars aanlyn teen mekaar, dan is hul heeltemal misgis hoe hierdie konsep werk", het Toerien gesê.
Toerien het verduidelik hoe maklik dit werklik is om te kan deelneem.
"Jy benodig 'n veerpyltjiebord met 'n stel veerpyltjies, betroubare internetverbinding waarvan ek eerder iets soos Wi-Fi sal aanbeveel, 'n slimfoon om die videofunksie van die WhatsApp kommunikasie-program te gebruik en rekenaar, skootrekenaar of tablet om in te skakel by die webtuiste waar die telbord gehuisves is", het Toerien gesê.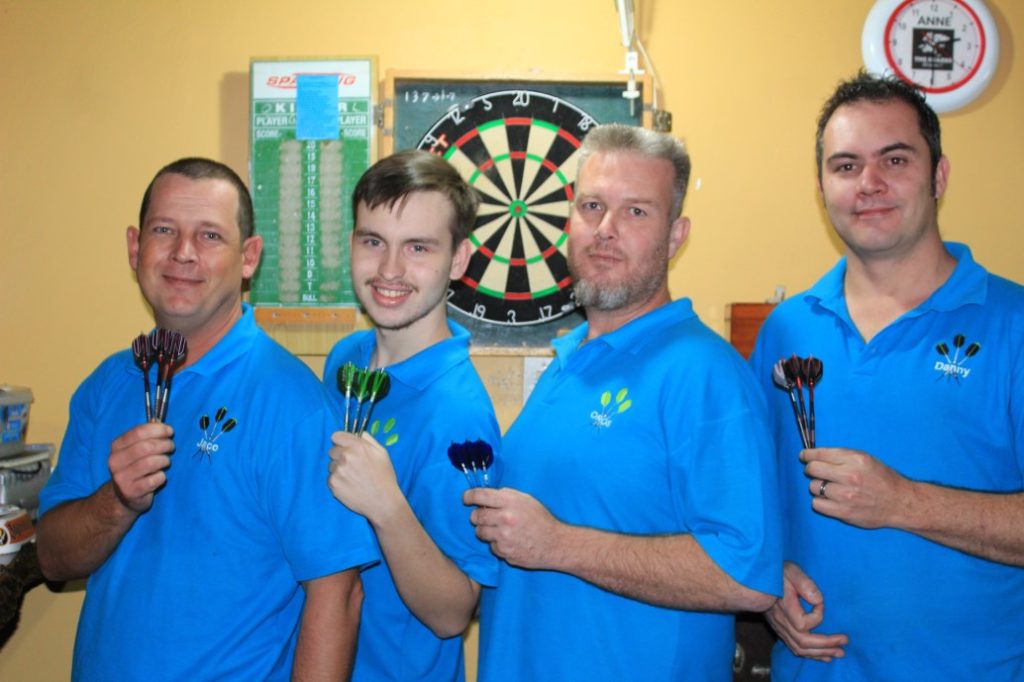 Volgens Toerien kan 'n speler feitlik enige persoon van enige plek in Suid-Afrika vir 'n 501-spel uitdaag, want uit drie rondes per spel bestaan. Toerien het verduidelik dat hulle op 'n webwerf genaamd nakka.com inskakel. Die
"Op hierdie webtuiste sal 'n telbord vir 'n 501-formaat spel kry. Jy kontak dan telefonies die speler wat jy wil uitdaag, hy skakel ook in op die telbord. Jou slimfoon stel jy op naby genoeg aan die telbord sodat die ander speler duidelik kan sien wat jy gooi. Sodra jy klaar gegooi het, vul jy jou telling eletronies op die telbord."
Soos wat die punte na elke beurt elektronies ingevul word, sal jou teenstander dadelik die telling kan sien soos wat dit aangepas word, en anders om", het Toerien verduidelik.
Volgens Jacobs het die aanlyntoernooi sedert die Covid-19 inperking gegroei en sowat 'n 100 spelers van regoor die land daag mekaar op hierdie platform uit wat ook op Facebook beskikbaar is om gespeel te word.
Toerien het vertel dat hy reeds vir sowat 'n jaar al aanlyn speel, maar nie so ernstig soos nou nie. Hy sê sedert die inperking het hierdie aanlynspel spelers vanuit verskeie oorde bymekaar gebring, sonder dat hulle fisies bymekaar hoef te wees.
"Ons spelers van Tzaneen het onder mekaar begin speel, toe hoor klubs van elders in Limpopo dat ons 'n aanlyntoernooi aanbied en hulle sluit ook toe aan. Voor ons kon besef, het spelers vanuit Mpumalanga, Gauteng en die Kaap aangesluit", het Jacobs gesê.
Volgens Jacobs is hierdie aanlynspel ook erken deur die sport se beheerliggaam, Veerpyltjie Suid-Afrika. Hy sê nie alle spelers sal genoeë wees om aanlyn te wil speel nie. Jacobs sê 'n mens moet in ag neem dat spelers elk 'n eie manier het om te speel, soos byvoorbeeld die pas waarteen hulle speel.
Jacobs sê veral as jy nie internetskakeling soos Wi-Fi het nie, kan dit nogal 'n foon se data kortsny as 'n persoon te lank neem om 'n spel van drie rondtes te voltooi.
Toerien het vertel dat sowat 45 spelers gedurende die week teen mekaar speel, maar die naweek se toernooi wat van die Vrydag tot die Sondag strek nagenoeg 'n 100 mense van regoor Suid-Afrika lok. Toerien het gesê hierdie aanlynkonsep kan net aanhou groei en verbeter met tyd.
Mense wie belangstel om veerpyltjies as 'n sport te wil beoefen, kan Tzaneen Veerpyltjie Vereniging se voorsitter, Tinus Jacobs (076 7533 532) of die toernooi-koördineerder. Danny Toerien (061 406 7987), vir meer besonderhede skakel.
>