Gina Harrison and her husband Justin decided after the birth of their son to trade the hustle and bustle of the Jo'burg city life for the Lowveld. Between Phalaborwa and Hoedspruit, live the proud parents and their five-month-old miracle baby, Matthew.
He was born on the 19th of March in Steve Biko hospital in Pretoria, shortly before the nationwide lockdown took effect on the 26th of March. Because of the sudden lockdown regulations, the family was not allowed to visit Gina and her son in hospital. Mother and son spent 55 days without the support of her husband or her parents, with telephonic contact being the only link to the outside world. 
Matthew was born with gastroschisis, a pre-birth defect which occurs when an opening forms in the baby's abdominal wall. The baby's bowel pushes through this hole and then develops outside of the baby's body in the amniotic fluid. It was initially detected in the 32nd week of Gina's pregnancy and resulted in an emergency C-section being necessary to save the bay's life as the condition started to worsen.
"On the 6th day after his birth, I was told he was safe from picking up any infections. From the time of his birth, he suffered three major infections. On the 8th day, his intestines were back inside his body and he was recovering well with no signs of damage to the scar tissue. I could hold him only on the 17th day after his birth," Gina recalled. "After his birth, I just wanted to go home, it was quite an emotional moment for me, I was crying my eyes out for two days. The doctors told me with conditions like Matthew's, babies have a 45 percent survival rate." Matthew had to undergo two operations which saved his life and helped him develop normally.
Justin, in the meantime, was sitting in the West Rand in Benoni with no choice but to bide his time away from his wife and son and try to remain calm and patient. Due to the Covid-19 lock down regulations, no visits to hospitals were allowed.
"There were five other mothers with babies in the hospital with me at the time. It was amazing how we worked and prayed together. I realised I couldn't do it all alone and I encouraged the mothers to join hands with me, because we were all in the same situation."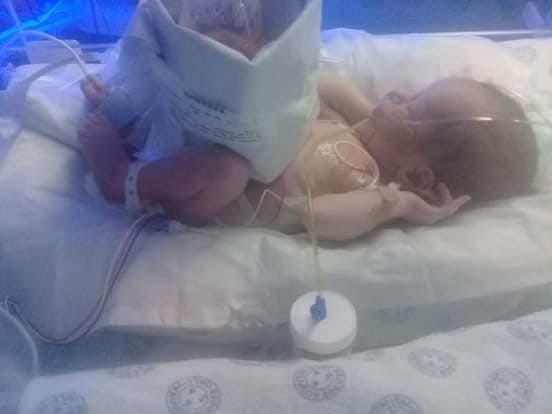 The couple survived the ordeal and took the gap provided by the minister to allow inter-provincial travel to settle in their new surroundings in the bushveld. Both mom and baby are doing well with Matthew showing no signs of any difficulties because of the affliction he suffered in the womb.
"This has all taught me to never lose faith no matter what the situation is you find yourself in. If you keep your focus on your faith, you can accomplish things you would otherwise never have thought possible."
>