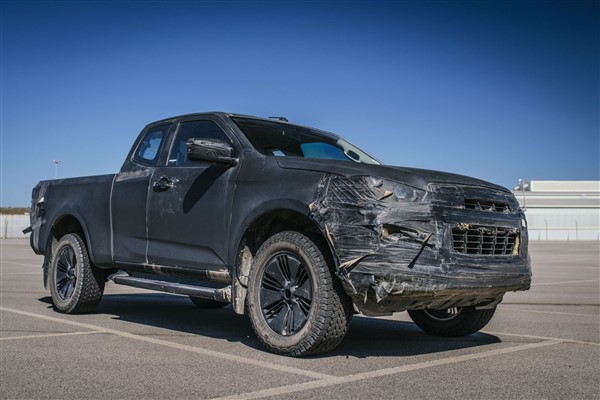 Isuzu Motors South Africa (IMSA) has been busy this year with many changes to some of its most popular models.
Dominic Rimmer, the Senior Vice President Technical Operations said that despite challenges posed by the Covid-19 pandemic and the national lockdown the engineering and product development team at Isuzu has been hard at work making changes to the current line-up of vehicles.
This include some key updates for 2020 as well as doing engineering and durability testing on the upcoming next generation D-MAX bakkie.
"Isuzu has a long and rich heritage in our market. We have been engineering and manufacturing reliable and durable vehicles for the last 48 years. In that time, we have learnt valuable lessons about what it takes to engineer a vehicle which can cope with the tough driving conditions in South Africa."
This is a key part regarding reliability and durability with this intensive engineering and testing sessions which is undertaken here in South Africa on all D-MAX bakkies before they are introduced. This work continues well into the products lifecycle as part of the company's continuous improvement philosophy.
Overview of Isuzu Products introduced in 2020:
3.0 litre Double Cab X-Rider Automatic
Isuzu has for the first time made the X-Rider nameplate available with the 3.0 litre engine and automatic transmission. The 3.0 X-Rider is only available with a six-speed automatic transmission. This is a decision which has been made in response to the popularity of automatic transmissions in the light commercial vehicle segment.
The 3.0 Double Cab X-Rider Automatic has the same bold exterior design Isuzu have on all its X-Rider models. Front styling is dominated by a black grill with a red Isuzu badge and a black bumper guard.
The 3.0 X-Rider is available with two 18-inch wheel options in black or diamond cut. An X-Rider 3.0 TD logo adorns the front doors along with clear side indicators.
All 3.0 X-Riders come with standard black side steps, matt black roof rails, black X-Rider Sport bar, a lockable tailgate with rear view camera, black Isuzu logo, and a standard 3.5 ton towbar.
Exclusive X-Rider interior features include black leather seats with red stitching, a leather wrapped steering with red Isuzu logo.
Repositioned LX and LE models
The rest of the D-MAX model range has received cosmetic changes to enhance the luxury feel of the leisure models which now have an all-black interior including a black roof liner and black cladding on the pillars. In addition, 4×4 models get a black 4×4 sticker which has been changed from red.
Isuzu 3.0 mu-X 4×4 and 4×2
Isuzu's seven-seater SUV has received cosmetic upgrades to enhance its styling, giving the vehicle a robust appearance and luxurious style.
Exterior styling upgrades include the addition of piano black inserts on the front grill and lower bumper valence including piano black front fog light bezels. The mu-X now has a stylish new 18-inch wheel, black running boards with piano black inserts on the edges.
Changes inside the vehicle include soft leather trim and piano black finish on the door panels with LED ambient lighting strips on all four doors. There's piano black trim around the window switches, on the air vents, and around the centre console.
Next Generation D-MAX Bakkie
Isuzu announced that work is underway on the engineering and testing of the next generation D-MAX bakkie which will be manufactured at Isuzu's assembly plant in Port Elizabeth. This will be the seventh generation of the company's popular bakkie. The local version will have some uniquely South African features and characteristics.
Some of the key projects being undertaken include testing on the load box which in the current bakkie is has significantly thicker steel in strategic areas such as the load box inner panels, load box front panel, and tailgate.
Other areas receiving attention from local engineers include, dust sealing, suspension tuning and development of local dampers, development of all-terrain tyres, rear differential lock and axles, wiring harnesses, and accessories such as canopies, roll bars and nudge bars. Isuzu is proud of the D-MAX's rich heritage of reliability and durability, the company believes the local teams experience will ensure that the next generation Isuzu D-MAX remains competitive, durable, and reliable in our tough conditions.
>