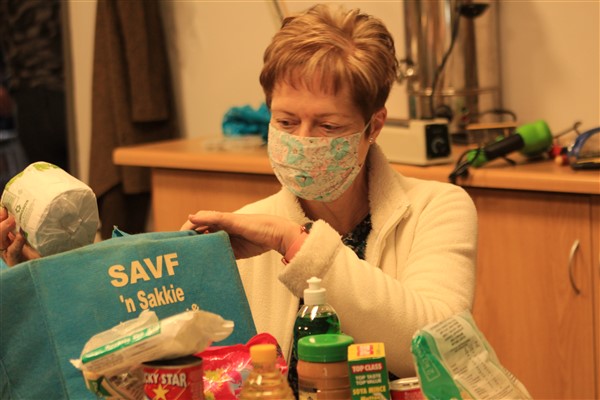 Die Suid-Afrikaanse Vroue Federasie (SAVF) van Tzaneen benodig die hulp van die publiek en ondernemings om sy maandelikse kossakkies te help opvul. Die skenkings van die Sakkie vir 'n Pakkie projek sal help om verligting vir meer as 'n 100 behoeftige gesinne te bring.
Volgens die SAVF, bevat hierdie sakkies net die broodnodige produkte wat 'n huishouding benodig. Die produkte sluit ondermeer blikkieskos, tee, pasta, rys en seep in en die koste daarvan beloop sowat R400 per kossakkie.
Dié bedrag van R400 kan natuurlik ook in die rekening van SAVF betaal word vir mense wat dit moeilik vind om self inkopies te doen. Die geld kan SAVF se ABSA rekening betaal word. Die rekening nommer is 126 080 0104 en die verwysing vir die inbetaling is Sakkie. Die naam van die skenker aangeheg.

Die SAVF is afhanklik van weldoeners om gesinne in nood by te staan wat veral deur die afgelope Covid-19 regulasie gekortwiek was. Skenkings in die vorm van kos, klere en kontant is altyd welkom.

"Ons maak staat op Tzaneen se vrygewige inwoners en wil hulle ook bedank dat ons altyd op hulle kan reken. Ons wil mense graag aangemoedig om die welwillendheidsprojek te ondersteun", sê Margie van Tonder, voorsitter van die SAVF.
Vir meer inligitng kan mense die SAVF se kantoor by 015 307 2645 of 082 773 0471 skakel.
Die benodigde produkte in aanvraag vir die skenkings is:
Konfyt 900g
Grondboontjiebotter 400g
Margarien 500g
Ingelegde blikkies vleis (boeliebief) 300g
Sardyne in tamatiesous 425g
Geblikte gemengde groente 410g
Sousboontjies (baked beans) 410g
Suikermielies 415g
Sonneblom-olie 750ml
Eiers 1 dosyn
Soppoeier 2 pakkies
Macaroni of pasta 500g
Rys 2kg
Soja maalvleispakkies 500g
Bruinsuiker 2kg
Teesakkies x40
Waspoeier 1kg
Badseep 200g
Toiletpapier 2 rolle
Skottelgoedseep 750ml.
>